This article Silver Gilford, is the sole property of Ashy and as such, please do not edit this article without my permission. If you wish to use or change this article in any beneficial way, please discuss with me...and be judged!
"Look upon yourself, trainer. Think, for but a moment. Is this truly who you are? Being a Pokémon Trainer is not simply about the best battler. Neither is it about being the one who catches them all. A Pokémon Trainer is one who bonds with their pokemon, expressing their abilities in their own fashion - not in the style of someone else. So take that idea that copying will bring you skill, and shove it down your throat. It is only individualism that grants you your place in the world."
— Silver's philosophy.
Appearance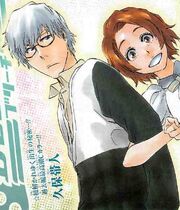 Personality
History
Synopsis
Equipment
Mega Ring and Mega Stones
Other Items
Abilities
Pokémon
On Hand
In Storage
Trivia
Behind the Scenes
Ad blocker interference detected!
Wikia is a free-to-use site that makes money from advertising. We have a modified experience for viewers using ad blockers

Wikia is not accessible if you've made further modifications. Remove the custom ad blocker rule(s) and the page will load as expected.